Creosoted Octopost Features
Redwood timber* grown in Sweden in or near the Arctic circle which gives added strength due to its very slow rate of growth. Picture below demonstrates the slow rate of growth. Impressive! 
Posts are machined into an octagonal profile providing a flat surface for fixing.
Kiln dried for maximum absorption of high pressure creosote treatment.
OCTOPOST offer a 25 year guarantee but have a life expectancy of 30-40 years.
Each post is identical making erecting quicker and giving a consistency which is pleasing to the eye.
Large range available from 1.5m to 5m in length
Suitable for all applications
Due to the large selection of posts and strainers that Octowood produce, they can be used for many applications such livestock, equestrian, forestry, industrial or solar. In addition Octopost fencing is used for many types of animals such as deer, poultry, Otter and much more.
Why Octagonal?
This is a very common question and the reason is simple – transportation. The posts are more securely bundled due to the flat edge therefore they are less likely to split. Of course the advantage of having a flat surface makes stapling the posts easier.
Creosoted Octopost stock
Please note the post width dimension is not the diameter measurement of the post. Please see drawing below:

Octopost sizes available:
The following are the posts that are normally available in the UK. Other sizes available to order but please give plenty of notice in order for the posts to be produced.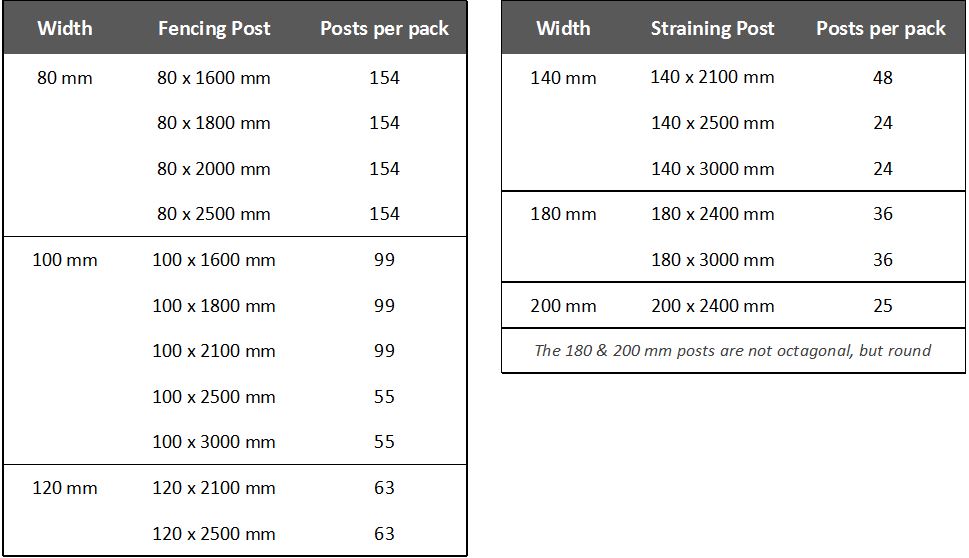 *The Latin name for the species of Redwood timber grown by Octowood for the Octoposts is Pinus Sylvestris.
Safety precautions when working with Creosote
It is advised that protection for for skin and eyes be used at all times when working with creosote. Please use the following link to access Octopost Safety Data Sheet   Please refer to section 8 for more information on what protection is recommended.
If required, more information can be obtained from HSE